Reminder: Quiz #1 on Friday, 2/6!
Quiz-worthy terms:
Melody and related terms:
Contour
Range
Interval
Conjunct
Disjunct
Phrase
Rhythm and related terms:
Beats
Measures
Meter: for example duple, triple, quadruple
Harmony and related terms
Chord
Triad
Scale
Triad
Consonance
Dissonance
Instrument categories:
Aerophones
Chordophones
Idiophones
Membranophones
Instrument families in the classical orchestra
Strings
Woodwinds
Brass
Percussion
"A Little Bird Told Me"
The history western classical music has its origins in the Medieval Era, in the religious music of the Catholic Church.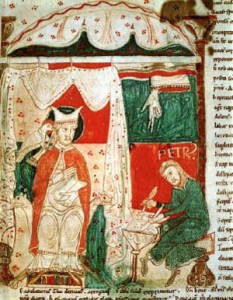 Pope Gregory I
Roman, lived 540-604, became pope in 590
Gregorian chant, a large collection of sacred music, is named for him
Composed by many contributors over time, but considered divinely inspired
Examples:

Use: Liturgy of the Hours, a set of daily prayers chanted by monks and nuns in monasteries and convents.
They prayed A LOT: up to 8 times a day, every 3 hours or so:
– Matins: 1 a.m.
– Lauds: 3 a.m.
– Prime: 6 a.m.
– Terce 9 a.m.
– Sext: 12 noon
– None: 3 p.m.
– Vespers (Evening Prayer): 6 p.m.
– Compline (Night Prayer): 9 p.m.
Monasteries and convents still exist today, which modified versions of the schedule, for example:
Schedule for St. Gregory's Abbey, Three Rivers, Michigan
Why is this important to classical music in general?
– Led to development of of modern music notation
– Composers in all eras of classical music, including the current one, have used and/or been influenced by the texts and melodies of chant, and the structure of the Liturgy of the Hours.
– Some sacred music has become concert music, performed outside of its original religious setting
Musical characteristics:
– Monophonic texture
– Mostly conjunct/stepwise motion: related to origin as a kind of musical speech
– Narrow range: usually about an octave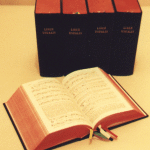 Initially an oral tradition: melodies were learned by ear and memorized, but notation became necessary as the number of melodies grew — eventually to more than 3000! Collected in a very thick book called the Liber Usualis, or "common book," 1900 pages long.
Origins of modern music notation:
– Began as marks above text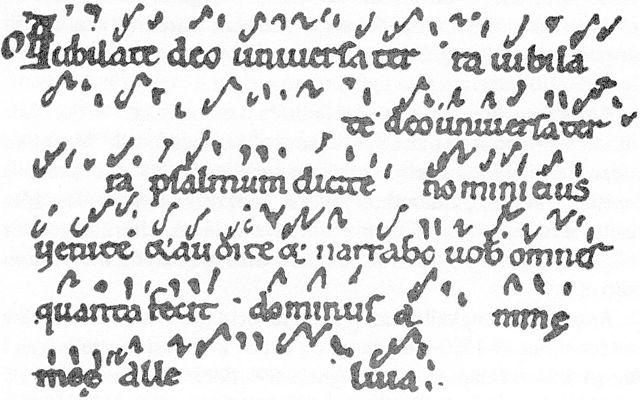 – Developed into neumes (from Greek pneuma, meaning breath)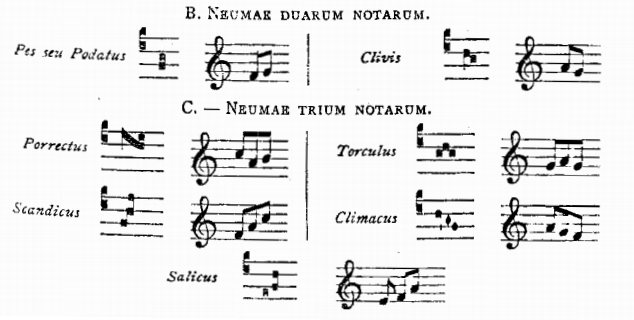 Three types of text-setting:
Syllabic: one note per syllable
Neumatic: a few notes per syllable
Melismatic: many notes per syllable

Illuminated chant manuscript: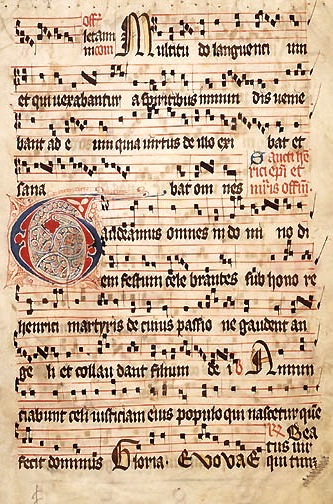 Hildegard of Bingen, 1098-1179, Germany
Nun, Abbess, polymath, later made a Saint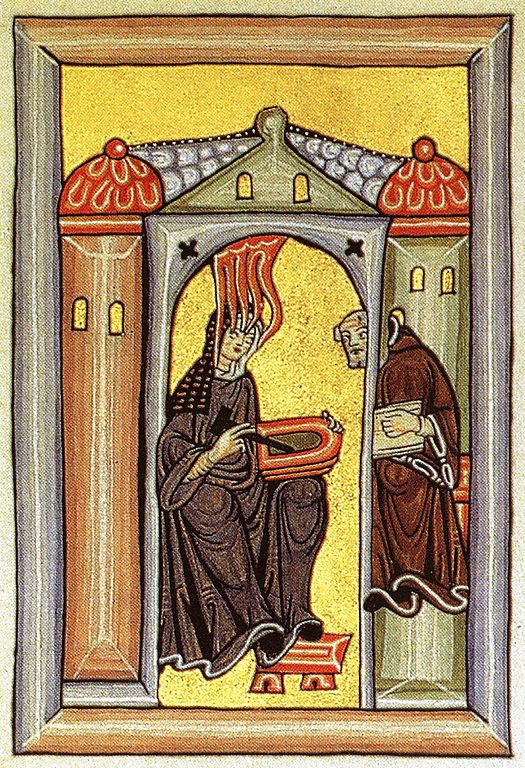 Hildegard: Alleluia, o virga mediatrix